Real estate can be a rewarding career. Independence, flexibility, and unlimited income potential are just a few of the benefits of selling real estate. Though it can be lucrative, it requires tenacity and self-motivation. If you're interested in becoming a real estate agent in New York, we've put together a list of steps for you to take to get started.
First, Let's Get This Out of the Way. What Exactly is a Real Estate Agent or, in NY, a Real Estate Salesperson?
As defined by New York State in Article 12-A of the Real Property Law, a real estate salesperson is anyone who, on behalf of another and for a fee negotiates a sale, exchange or rental of real property or collects rent for the lease of real property.
Real estate activities can only be done by real estate professionals. That means in order to show a house, host an open house or advertise a property for sale online, you must have a real estate salesperson's license.
What Are the Basic Requirements to Get a Real Estate License in New York?
Applicants must:
Be at least 18 years of age.
High school graduate or equivalent
Satisfactorily completed a 75-hour salesperson qualifying education course in real estate approved by the Secretary of State
Pass a qualifying examination administered by the Department of State consisting of 100 multiple-choice questions. A passing grade needs 70 or more questions answered correctly.
Where Can I Find a Real Estate School in NY?
The 75-hour real estate salesperson course is offered in class or online. Schedules and costs can vary from one school to the next. Your choice of schooling should be influenced by your preferred learning style and budget. If you're better at self-paced learning, then the online course can work for you. Online courses also tend to be cheaper than the in-class version. But, if you're a visual learner and you prefer to have interaction in a classroom setting, then there are plenty of options for you.
Here's a list of approved schools
How Much Does It Cost to Get Started in Real Estate?
Let's break this up into two sections:
To get your license:
Cost of 75-hour salesperson cost: Some courses online are offered as low as $100.
Some in-person courses offering the same curriculum can cost upwards of $450.
Let's go with the average one-time cost of $275 but you'll find that with a little bit of research, you'll secure a course much cheaper than that.
The cost of the qualifying examination administered by the Department of State is a one-time fee of $20
The initial application fee to obtain your real estate license from the Department of State is $50. Every two years, it will cost another $50 to renew your real estate license.
The total cost to obtain your New York real estate license is less than $350
To get started selling real estate:
MLS/real estate board dues can vary depending on your location. For instance, if you wanted to become a real estate agent in Long Island you would join the local real estate board to gain access to the local multiple listing service. You'll be a participant of One Key MLS which serves nine counties in downstate New York and holds over 40,000 real estate agents. The first year of dues for new agents is $700. With this cost, you'll be a member of the National Association of Realtors®, the New York State Association of Realtors®, and the Long Island Board of Realtors®.
Errors and Omissions Insurance. This technically isn't a requirement although most brokerages make it a part of their requirements. It's a prudent business practice. The cost can vary but typically can be $100 per year for a single-agent policy. Some brokerages offer it as a part of their package to agents.
$1,150 out-of-pocket costs to become licensed by the State of New York to transact real estate. There aren't many careers or business endeavors that can be started with such a small investment.
Now a word of warning: No, it isn't expensive to get into this business nor is it time-consuming to complete your 75 hours of education and training. There's a prevailing attitude that real estate is fast, easy, and big money, and that's not true.
A large percentage of new agents leave the business within a year or two. They realize that the easy big money isn't there. They struggled and worked long hours but didn't focus their efforts properly.
A lack of income is tough to overcome in the beginning. We get it. You have bills to pay. Most agents start selling real estate part-time while transitioning from their current careers. You must make the decision whether that's something your lifestyle can handle. Starting part-time might be a little more challenging in terms of marketing, getting business, and meeting client schedules, but it helps some agents to stay in the business until commissions start flowing in. It's not fun when you're working hard and not bringing in the bucks, but it's worth sticking around if you can.
What Are the Skills a Real Estate Agent Will Need?
Self-motivation. No one is going to tell you how to run your business. You'll receive training but ultimately it's up to you to apply what you learn to your business. In the beginning, you'll look for opportunities to generate potential real estate leads that will lead to transactions.
Time management. Most real estate agents get into the business because they want a flexible schedule. In real estate, you are your own boss and can schedule your day so that you're able to attend your child's sporting event or be home before they get off the bus in the afternoons. You don't clock in and clock out every day. Similar to motivating yourself, staying on-task is just as important. Agents create their own schedules and it's important to focus on the most important activities. Block out time throughout the day or week to devote to your business activities.
Networking. Real estate is a networking-based business. Referrals and repeat business make up the majority of the most successful real estate agents. Having the ability to meet new people and give them your "elevator pitch" is one of the most successful characteristic traits a real estate agent can have.
Budgeting. If you're fortunate enough to have another steady income to rely on then you're a step ahead of most agents. But, if you plan on making real estate your main source of income, it'll be important to learn how to budget your business and budget your personal financing. Real estate closings don't always align with your monthly bill due dates. There are times you may go a month or longer in between closings. Then you'll have 5 closings in a month and now you're bills are paid for the next six months.
Is a Career in Real Estate Right for You?
We've all seen the TV shows. First-time home buyers with million-dollar budgets view three homes and after the next commercial break, they're in their dream home. Is this reality?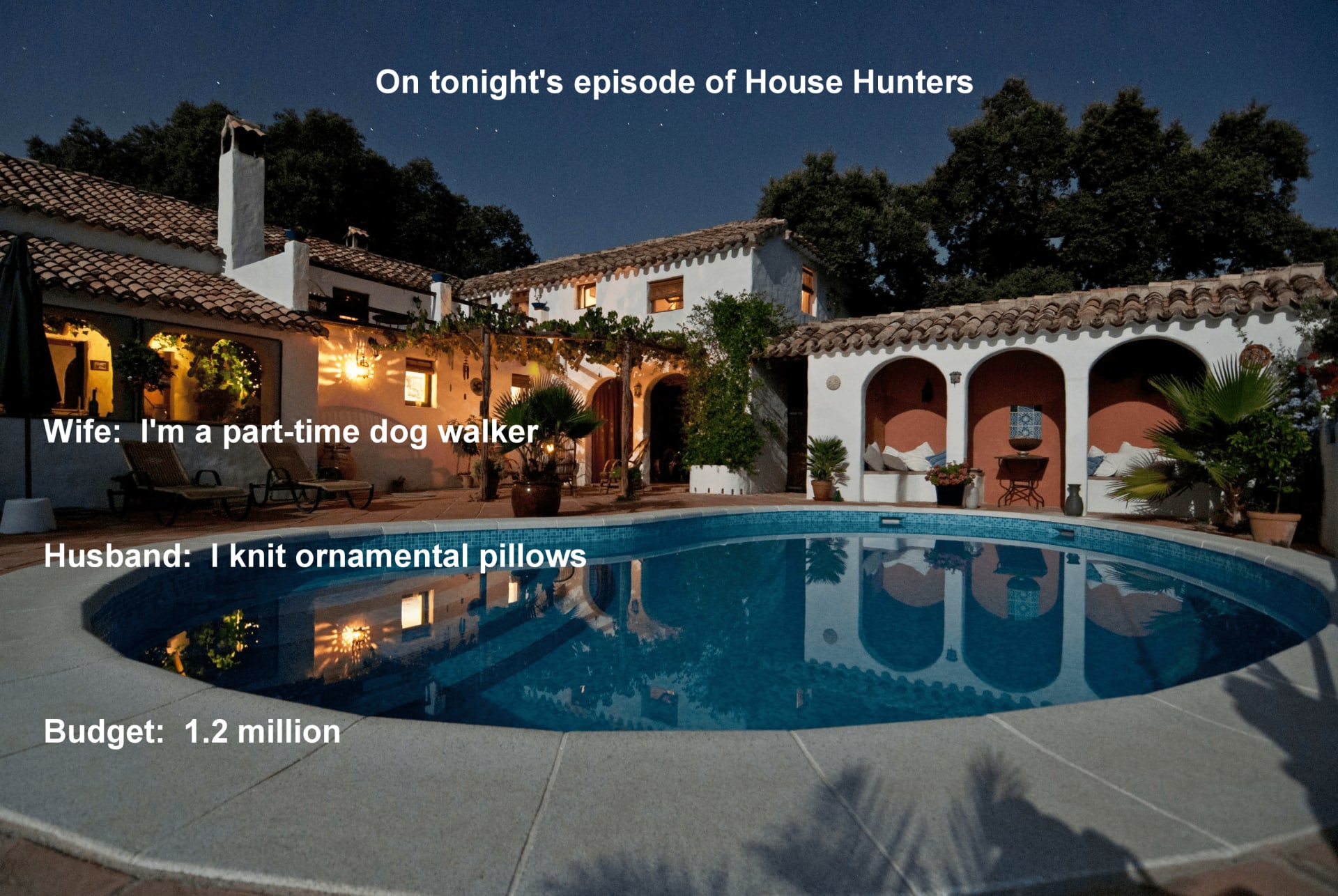 No. This is not reality.
Being an agent is great if you like real estate and enjoy working with people, but it's not always the dream job some imagine it to be. It's a common misconception that real estate agents earn a ton of money for doing practically nothing. It will take you about a week in the real estate business before you get a reality check on that line of thinking.
The Biggest Question for Most People is, How Do Real Estate Agents Get Paid?
The vast majority of real estate agents are independent contractors working on a 100% commission income basis. Simply put, you only get paid if you sell a property or lease an apartment. New York real estate salespersons cannot get paid directly from a closing. The commission is paid to the agent's brokerage. Typically a small portion is paid to the broker for their sponsorship with the agent receiving the bulk of the commission check. All commissions are negotiable between the agent and his or her client. Broker/agent commission splits vary from one company to the next.
Real estate agents make, on average, 25 percent more income than all professions. There really is no cap on how much you can make. The more you put into your career, the more income you can generate. Since you're in charge of your own business, there isn't a salary cap or a set amount of time you have to work before you get a raise.
So I've Passed My Course and State Test, Now What?
Start focusing on your business plan.
In the vast majority of most professional careers, it is the worker being interviewed for a position with the employer. But, in real estate, you are an independent contractor and you get to be the one to interview potential brokers!
In the state of New York, a licensed real estate salesperson must work under the sponsorship of a real estate broker. This is where you will "hang your license".
Sit back and figure out just exactly what it is you want to do in real estate. Are you looking to make a full-fledged career move? Are you looking for supplemental income to go along with your current source of income? Are you looking to specialize in any specific areas of interest like apartment rentals, house flipping, or condominium sales?
When interviewing potential sponsoring brokers, ask about their new agent training programs, what type of technology are they integrating into their brokerage, whether are there opportunities for broker-provided leads, and what fees is the agent responsible for while working under that brokerage. Monthly fees? Sign installation fees? Website or technology fees?
Before you get started on your real estate career, take time to think about how you will overcome some of the challenges of this rewarding industry. The pros are definitely enough to attract many people to the industry, but it's the professionals who can overcome the cons that have true staying power. Becoming a real estate agent is a big decision requiring time, attention, and dedication. But the result is almost unlimited earning potential and the possibility of someday being your own boss — two things that make many salespeople tick.
Sound like something you're interested in?
Get started today by contacting us for more information.